Coolwater Lugo Transmission Project (CLTP) Segments 1-13
The Coolwater-Lugo Transmission Project (formerly South of Kramer) was designed to expand transmission capacity in the Kramer Junction and Lucerne Valley areas. Saddleback Surveys, Inc. (SBS) was involved from the beginning of the project until its rejection by California Public Utilities Commission (CPUC) in 2015. The route was approximately 75 miles of infrastructure for renewable energy.
Period of performance January 2009 – May 2014
Location of work – San Bernardino County
Contract Value of project – 755 million to $1,047 million per CPUC (SBS contract $1.6 million)
Description of work performed – Land surveying, construction support, and mapping

75-mile Control Network
4 substations staked
400 Towers staked
Towers and power poles located
300 Access Roads staked
Base mapping
Research
Construction layout

Zero days lost to injury or illness, had no performance issues reported.
---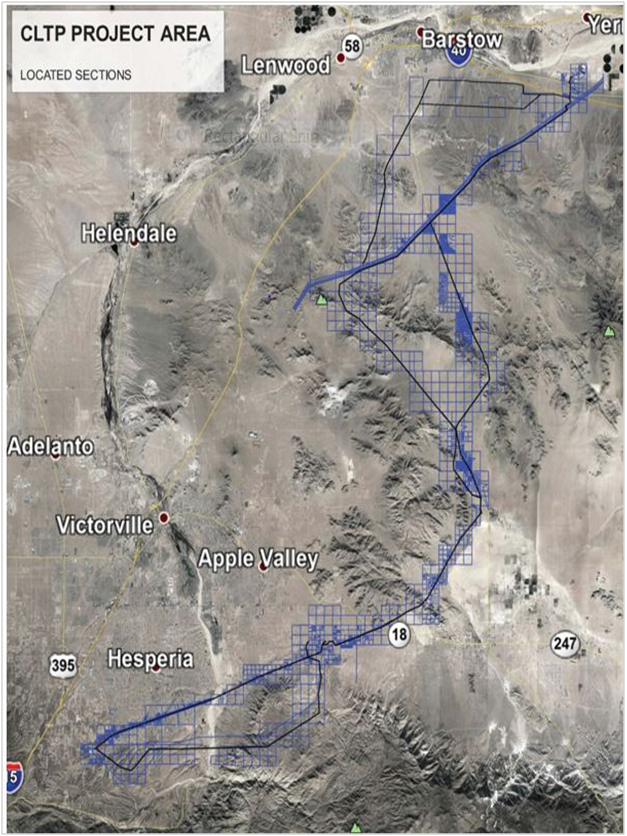 SBS worked extensively and seamlessly with SCE's Survey Manager, Field Crews and Environmental and Safety Personnel, including numerous private and public agencies to provide the following services:
Horizontal and Vertical Control network
Established a Control network for the entire length of the project. The Final Control Map documented the Project Basis of bearings and Benchmarks that was furnished to SCE and other consultants.
Planning and Topographic Surveys
Aerial control targets were established for conventional Photogrammetry and LiDAR. Topographic surveys of existing access roads and above ground visible utilities.
Boundary Reconnaissance
Located over 800 monuments to ensure an Accurate Record Data Base Map.
Proposed Tower, Substation and Access Road Staking
Staked proposed Tower centers and legs per design and proposed Assess Roads. Prepared reports and exhibits documenting any requested required field modifications. Staked requested information for future substation layout.
Research and Base Mapping
Provided a survey grade mapping base of property and above/below ground utility data.
Additional Tasks
All Survey personnel were Certified Desert Tortoise Personnel &lead SCE caravans safely and efficiently through the site during Engineering Team field visits.
Preparation of multiple FAA 1-A letters certifying the heights and locations of existing towers.